Andy Serkis reprises Gollum character to mock May's Brexit plan
Comments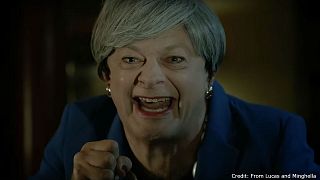 Actor Andy Serkis brought back his Lord of the Rings character Gollum in a parody poking fun at UK Prime Minister Theresa May's Brexit plan.
The clip started with an aide presenting Serkis, who is dressed as May, with a copy of the Brexit withdrawal agreement.
Using Gollum's renowned, growling voice, the performer refers to the document as his "precious" — a term the character uses in J. R. R. Tolkien's novels to refer to the ring.
Serkis displays Gollum's trademark switch between the good and evil sides of his personality, one moment looking forlorn and saying the deal "hurts the people", the next he grimaces saying "I finds it, I negociates it, we wants it".
He depicts May debating between leaving the EU and a potential People's Vote, showing how complicated many feel Brexit proceedings have become.
The video, produced by Silverfish Films, was posted on social media with the caption: "The people's vote, we wants it".
The caption was also shown at the end of the clip.
A hit on social media, some users applauded the clip with one saying it was the "funniest video of the year, by a mile".
Others criticised the video's message, with one Facebook user saying: "The only people who want another vote are the people who lost, but that's not really how democracy works."
Those who support Brexit have also tapped into popular culture to try and endorse their cause.
Ukip supporter Mandy Boylett produced a campaign song calling for the UK to leave the EU in February 2016. The track was titled "Britain's Coming Home" and set the music of football anthem Three Lions by the Baddiel & Skinner & Lightning Seeds.
May stirred anger, confusion and fresh calls for a motion of no-confidence after she announced on Monday afternoon that she would postpone a crucial parliament vote scheduled for Tuesday on her draft Brexit agreement.