Violence erupts after Yellow Vest march in Lyon
Comments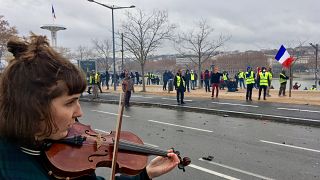 France's second city Lyon may be in the middle of its annual biggest event, the world-renowned Festival of Light, and the city is heaving with tourists, but that did not stop the Yellow Vests protesters from marching on Saturday.
Singing "police everywhere, justice nowhere", they invited the police to join their protest, which was peaceful and good-natured enough to include a violinist. People from all walks of life, including families and children took part.
The things started to turn nasty, and the families melted away to leave a handful determined to confront the police violently.
Some demonstrators knelt down to evoke the students in the north of France who yesterday were corralled by police and forced into kneeling positions while detained. Images of the mass detention went viral and provoked some shock.
Inevitably with the violence came arrests; 14 at the last count, along with three injured, one a police officer.
"The yellow vests' demo here in Lyon improvised it's way here, to a bridge in the centre, where the police forces blocked the passage for the demonstrators and it was then that the situation eventually degenerated, with some confrontations and several arrests," reports euronews' Rodrigo Barbosa.