Armenia election: Post-revolutionary vote set to cement country's new political landscape
Comments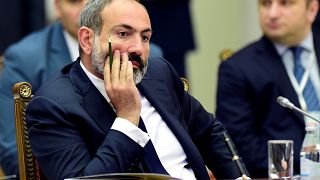 Armenians are to vote on Sunday in an early election called by acting Prime Minister Nikol Pashinyan, who aims to secure his government after coming to power in a peaceful revolution earlier this year.
Elected leader by lawmakers in May after mass anti-corruption and anti-cronyism protests that latest a week, Pashinyan stepped down in October to dissolve parliament and ready the country for the early election.
Former President Robert Kocharyan meanwhile, was charged on Friday of attempting to overthrow constitutional order by a court of appeal - which ordered his detention.
He was arrested in July but released a month later and the case was sent to the Armenian appeals court.
Kocharyan served as president of Armenia from 1998 to 2008, when mass protests unfolded over a disputed election.
However, the former ruling Republican Party still dominates the country's politics.
So Pashinyan expects Sunday's vote to lead to a parliament that represents the country's current political landscape.
Nine parties are to take part in the vote. Opinion polls point an easy majority win for the My Step Alliance, which includes Pashinyan's Civil Contract party.
Ahead of the vote, Pashinyan said there would no major changes in foreign policy in Armenia and no breaks with Russia.
The country hosts a military base that belongs to Moscow and is part of Russian-led alliances.
The poll stations opened early on Sunday morning and voting is due to end at around 5pm CET.