Watch: What do citizens think 5 months after the Armenian revolution?
Comments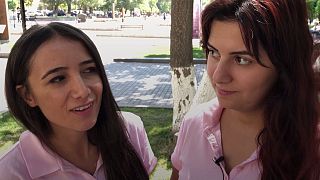 Once seen as Armenia's most formidable strongman and veteran chief, Serzh Sargsyan resigned from as Prime Minister in April amid 11 days of protests.
On May 8, Nikol Pashinyan, the man who spearheaded the peaceful demonstrations, was elected Prime Minister of the post-Soviet nation.
However, what do the people of Armenia, the landlocked nation that fringes Turkey and Iran, think of their new leader and the direction their country is headed?
In the video, Euronews asks Armenians for their view.
The Background: What happened?
In 2015, Armenians voted in a referendum which saw the state moving from presidential-led to parliamentary. Many were critical of the vote, calling it rigged and were sceptical that the two-time president Sargsyan would slip into the newly boosted Prime Minister role to retain power.
Blocked constitutionally from running for President a third time, Sargsyan became Prime Minister on April 17 following his election by the parliament ruled by the Republican Party of Armenia (RPA).
The move sparked outrage with tens of thousands taking to the streets in protest, led by opposition MP Nikol Pashinyan. The demonstrations were country-wide and non-violent, with protesters calling for an end to corruption and cronyism in the government.
Sargsyan's resignation less than two weeks into the protests came as a shock. In June, the newly elected Prime Minister and former journalist Pashinyan said that the nation should hold parliamentary elections within the year.
"Holding a parliamentary election within a year will allow us to improve the electoral system and will give political parties an opportunity to ... prepare for the election," Pashinyan told the parliament.
Pashinyan met with United Nations Secretary-General António Guterres on September 24 before the onset of the UN General Assembly. The pair discussed electoral reforms, as well as the Nagorno-Karabakh peace process.
The volatile Nagorno-Karabakh territory is situated within Azerbaijan but is controlled by ethnic Armenians.