Annegret Kramp-Karrenbauer elected as CDU leader as Merkel bids farewell
Comments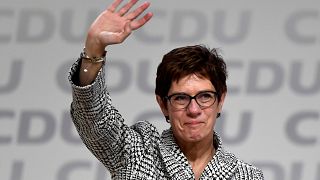 -
The Christian Democratic Union has elected Annegret Kramp-Karrenbauer as leader, marking the start of a new era for Germany's ruling party.
Kramp-Karrenbauer succeeds Angela Merkel, 64, who will step down as leader of the CDU but stay on as chancellor for the remainder of the parliamentary term.
CDU delegates, made up of 1,001 career politicians, lawmakers, mayors and councilors, voted to decide the new leader on Friday.
Kramp-Karrenbauer won most support in the first round, but a final round was needed to determine an outright winner.
She faced onetime rival of the Chancellor and former parliamentary leader, Friedrich Merz, winning with 517 votes from 999 votes cast by delegates.
"We need to get rid of what's slowing us down," the new leader said in the run-up to the vote.
"And for many entrepreneurs in this country, that means too few trained professionals, too much bureaucracy and too high costs. Here, too, we have no problem with knowledge, we must finally do it. And we want to tackle that together."
Sometimes dubbed 'mini Merkel' or AKK, Kramp-Karrenbauer, 56, is the former premier of the small western state of Saarland.
The new leader does not automatically become the German Chancellor, but is tipped to take office when Merkel either steps down or is forced out.
The next federal election in Germany is due by 24 October 2021.