Family's fears for 'little Messi', 7, after Taliban death threat
Comments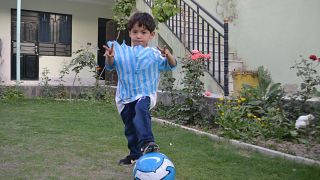 You might remember Murtaza Ahmadi or "little Messi" — the seven-year-old Afghan shot to fame when a photo of him wearing a football shirt made of a blue-and-white-striped plastic bag was widely shared online.
The hype drew Messi's attention and the youngster's dream of meeting the Argentinian star came true.
Murtaza met his idol in Qatar before a Barcelona friendly match. He was a mascot for the occasion and walked out onto the pitch clutching the striker's hand.
Messi gave his small supporter an autographed jersey and a football.
But now his family say they fear for the child's life after his new-found stardom attracted the Taliban's attention.
His mother alleges they are searching for Murtaza by name.
"(They) said if they capture him, they will cut him into pieces," Murtaza's mother Shafiqa told AFP.
His family abandoned their home in south-eastern Ghazni province in November and are now among thousands of uprooted people struggling to get by in Kabul.
Over 300,000 Afghans, 58% of them aged under 18, have fled their homes due to violence since the beginning of 2018, according to a tally by the UN's agency for humanitarian affairs.