Boy so overcome when meeting the Queen he crawls away
Comments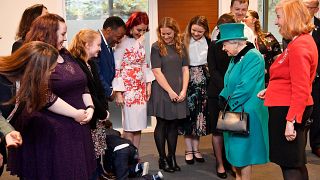 It is customary when meeting the Queen to curtsy or bow but one little boy was so overwhelmed that he dropped to the floor and crawled out of the nearest door!
His cries of "bye" clearly amused onlookers and Her Majesty.
Nathan Grant, nine, was introduced to the Queen when she visited Coram — the UK's oldest children's charity.
Another of the children she met at the establishment, nine-year-old Lewis, asked which of the countries she had visited was her favourite.
She replied that there were "so many I couldn't pick one".
Her Majesty also met Edward Newton, 102, the oldest surviving pupil from The Foundling Hospital, which is where Coram is based.