Ukraine-Russia: EU 'extremely concerned', Kyiv calls for sanctions
Comments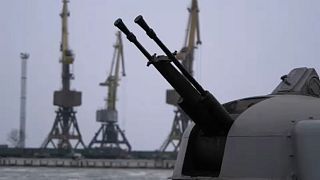 The EU has said it is "extremely concerned" about the rising tensions between Russia and Ukraine in the Sea of Azov.
Not only because it is a new threat for the territorial integrity of Ukraine, but also because the EU economy is beginning to suffer.
"The activities in the Azov Sea slow down enormously the vessels that are also carrying European Union member states' flags so we are suffering an impact on our own economies," Federica Mogherini, EU foreign policy chief told reporters.
Ukraine is asking for more EU sanctions - for those already in place to be rolled over, but also to adopt new ones on the ports and Russian shipping companies.
They have also asked NATO to send vessels to the Black Sea. Speaking to Euronews, Vice Prime Minister for European and Euro-Atlantic Integration of Ukraine, Ivanna Klympush-Tsintsadze said:
"I would like to see European and NATO countries acting more promptly and being ready to react much faster. However we understand that this is the decision of many and it does take time.... That is a threat not for Ukraine only, this is a threat for European security. And unfortunately some European politicians prefer to turn a blind eye to this problem."
The Russian President has blamed his Ukrainian counterpart for fueling the latest crisis to score political points.
"Poroshenko is very good at creating crisis and provocative situations. He then immediately puts the blame for what he did on Russia," said Vladimir Putin.
The EU has already said that is planning to take "appropriate, targeted measures" to address the situation. The issue will be on the agenda at European council next Monday.