The 'bad blood' of Buenos Aires bound for the Bernabeu
Comments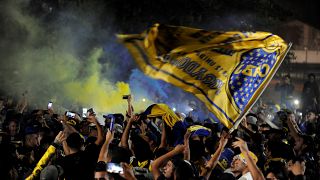 It's perhaps the longest journey two local rivals will ever make to see a derby. But then it's not just any derby; it's the decisive match of the Copa Libertadores, South America's equivalent of Europe's Champions League.
Boca Juniors and River Plate, the two eternal enemies of Buenos Aires, will play the second leg of the Copa final on Sunday at El Stadio Santiago Bernabeu, the home of European champions Real Madrid.
The match was moved to European soil after twice being abandoned at River Plate's El Monumental stadium in the Argentine capital. On the first occasion, on November 24, the game was cancelled after the Boca Juniors' team bus was attacked by River Plate supporters, leaving the Boca captain slightly injured. A replay the following day was then abandoned after CONMEBOL - the South American version of UEFA - deemed that the safety of players and fans could not be guaranteed.
The first leg of the final ended in a 2-2 draw at Boca Juniors' Bombonera stadium.
Passionate Boca fans turned up in force to cheer their team on as the players left for the airport on Tuesday (see video above). River Plate's squad were due to fly out to Madrid on Wednesday.
Hooliganism
Football hooliganism has become a serious problem in Argentina, to the point where fans are banned from travelling to watch their team away from its home stadium. Even that sanction has not been able to prevent killings between factions of supporters of the same team.
Boca and River have been allocated 25,000 tickets each for Sunday's match at the Bernabeu, although only 5,000 of those can be sold to fans inside Argentina. That decision was taken to avoid street battles in Madrid between the infamous gangs of violent supporters known in South America as Barras Bravas.
Spanish and Argentine government ministers have been liaising closely in order to minimise any threat.