Astronaut interacts with robot aboard ISS
Comments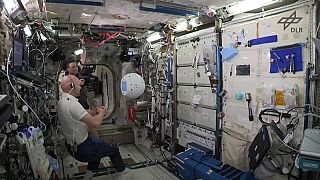 The European Space Agency (ESA) shared a video showing ESA astronaut Alexander Gerst first interactions with a robot assistant called Cimon aboard the International Space Station (ISS) on November 15.
The video shows Gerst and Cimon talking to each other, the robot recording a video stream using its camera upon command and playing Gerst's favourite song, "Man Machine" by Kraftwerk.
According to ESA, the robot, which uses artificial intelligence software, was created to test interactions between human's and machines in space.
According to ESA, Cimon's developers and Gerst were satisfied with the robot's first outing.