Swedish appeals court toughens sentence for Frenchman in Nobel scandal
Comments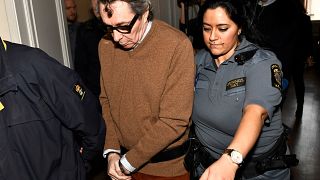 A Swedish appeals court handed Jean-Claude Arnault, the Frenchman at the centre of a sex scandal that made the Swedish Academy postpone the 2018 Nobel literature prize, a tougher sentence.
The court found Arnault guilty of a second rape of the same woman in December 2011. The District Court had only found him guilty of the first charge in October 2011 but had discounted the latter.
But this changed when the appeals court found him guilty of both and increased his prison sentence by six months to two years and a half in prison.
In a statement, the court said: "The court of appeal, as in the assessment of the previous event, considers that the plaintiff's story has given a credible impression. Her story is also strongly supported by what several witnesses said the plaintiff told them."
Arnault, who had denied all charges, is married to Academy member Katarina Frostenson.
His lawyer said that the verdict would be appealed to the Supreme Court.
The Frenchman, a photographer and well-known cultural figure in Sweden, was accused of sexual misconduct by 18 women in a newspaper article in November 2017. However, all but one of the women's allegations were dropped due to a lack of evidence or because the statute of limitations had passed.
This year the Academy, which picks the winners for the Nobel literature prize, was forced to postpone this year's award.