'It doesn't matter if migrants shipped to island are criminals, they still have human rights'
Comments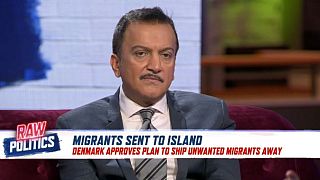 Denmark is set to send deported criminals and convicted asylum seekers on a deserted island off its coast.
The policy forms part of a draft budget agreement between the government and right-wing populists the Danish People's Party (DPP).
DPP tweeted a video and said: "Expelled, criminal aliens have nothing to do in Denmark.
Anders Primdahl Vistisen, a Danish MEP from the People's Party, said that the policy would only touch people who were convicted of an offence and had endured long prison sentences in Denmark so "they'll only have to stay there until they can return to their country of origin".
He deemed it a "good solution to a delicate problem".
But Dharmendra Kanani, Director of Strategy for the think-tank Friends of Europe, countered that view.
"Seeing the cartoon and listening to some of the rhetoric coming out of the political party reminds you of the rhetoric a hundred years ago (at the start of WWI) and we should fear what is taking place. 
"It's like the genie is out of the bottle and it's everyone's game. Hungary and Poland do what they do with refugees and asylum seekers. Now Denmark is saying: 'It's okay to ferry people off to an island'."
For Kanani, it doesn't matter if these are criminals that are being shipped to the island.
"That doesn't mean they don't have any human rights," he added.