Marvel Avengers STATION experience opens in London
Comments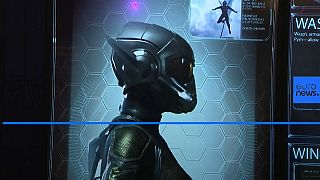 Marvel's Avengers S.T.A.T.I.O.N has opened at Excel London this week, following a hugely successful run in New York, Seoul, Paris, Singapore, Beijing, Taipei and Las Vegas, where it has set up a permanent exhibition.
This highly anticipated multi-room experience offers fans of all ages the opportunity to delve into the super-workings and backstory of each member of The Avengers as they train to become an agent of the S.T.A.T.I.O.N.
S.T.A.T.I.O.N. is an acronym for Science Training and Tactical Intelligence Operative Network, where guests will step inside the popular films and become part of the Marvel Cinematic Universe storyline, whether trying to lift Thor's hammer or taking a peak at Bruce Banner's Lab.
"The fans can really explore, first of all they can learn about you know the science behind what the Avengers do, but they also have, there's a number of interactive games that they can go through and as they play they learn about their favorite heroes," explained Welby Altidor, who has overseen the Marvel S.T.A.T.I.O.N exhibition in Las Vegas.
The London experience includes new character displays on Black Panther, The Wasp, and Thanos. The interactive exhibition of an old favorite - Iron Man - might still prove most popular, however.
"So one of the big dreams that we have when we love Iron Man is to actually put that suit on and become Iron Man, you have this opportunity to virtually put the suit of the Iron Man on, and basically fly and go for a bit of a mission as Iron Man would do so it's quite a bit of fun," observed Altidor.
The exhibition is on until March 2019.