Europe briefing: Gilets jaunes; COP24; and gains for far-right in Andalusia
Comments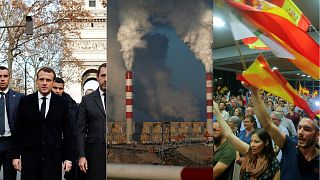 1) Paris 'gilets jaunes' protest
French Prime Minister Edouard Philippe met with leaders and members of the "gilets jaunes" ("yellow vests") movement on Monday after scenes of chaos across Paris over the weekend.
It follows President Emmanuel Macron's emergency meeting on Sunday with ministers and security officials.
Macron asked his interior minister to prepare security forces for more protests and told Philippe to hold talks with party leaders and representatives of the protesters.
The French president rushed to the Arc de Triomphe on Sunday after he came back from the G20 summit in Argentina.
Protesters had earlier scrawled "Macron resign" and "The yellow vests will triumph" on the monument.
2) Climate talks in Poland
The latest round of UN climate change talks has kicked off in the Polish coal city of Katowice — one of the most polluted sites in Europe.
This year's COP24 will follow up on the critical Paris Climate Agreement of 2015, where countries agreed to step efforts to tackle global warming.
It comes as tens of thousands of people marched through Brussels calling on governments to stick to their climate change commitments.
3) Far-right to enter Spain's regional parliament
Spain's far-right Vox party could end up as kingmaker in the country's most populous region after winning 12 seats in an election in Andalusia.
It's the first time since the country's military dictatorship under Francisco Franco ended in 1975 that a far-right party has won seats in a Spanish regional election.
4) Hungary CEU decision
A self-imposed deadline by a university founded by US billionaire George Soros to settle a legal dispute with the Hungarian government has passed, raising serious questions on academic freedom in the country.
Saturday marked the end of the embattled Central European University's (CEU) deadline to remain in Budapest, with the university now set to move its activities and start the 2019-2020 academic year in Vienna.
The move has been seen by students and some European politicians as a serious blow to a liberal bastion in Hungary, led by far-right Prime Minister Viktor Orban's 's Fidesz party since 2010.
The university was set to give a press conference on its future direction on Monday afternoon.
5) Kremlin calls Ukrainian claims 'absurd'
The Kremlin has said the accusation by Ukraine's Poroshenko that Moscow plans to seize Ukraine's ports is "absurd".
Relations between Russia and Ukraine deteriorated over the last week after a naval clash in the Sea of Azov.
Moscow fired on and seized three Ukranian gunboats and said three sailors were injured, while Kyiv said six were wounded.
The incident is a reminder of the tensions between the two nations that unfolded after Russia annexed the Crimean peninsula in 2014.
How we reported the news this morning
You can follow Euronews' live news coverage between 6am and 12pm every day here: