Hundreds of Santas dash around the English city of Liverpool
Comments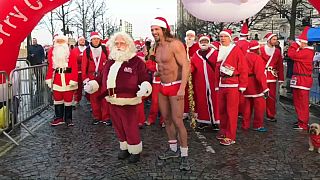 Hundreds of people dressed as Father Christmas took to the streets of Liverpool on Sunday, December 2 for the English city's annual Santa Dash race.
Runners, joggers and walkers dressed in red and blue Santa outfits gathered at Liverpool's Canada Boulevard to begin the 5km race around the city.
Local media reported that over 1,500 competitors had registered to take part in the fun run this year.