Europe briefing: Ukraine bans entry to Russian adult men, G20 kicks off
Comments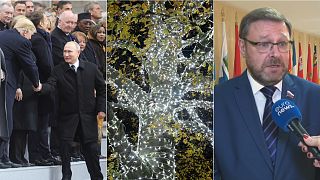 1) Ukraine bans entry to Russian adult men
Ukraine has banned Russian adult men aged between 16 and 60 years old from entering the country, the head of the border service, Petro Tsygykal, said in a televised meeting on Friday.
"Today, the entry of foreigners is limited — primarily citizens of the Russian Federation — non-admission of citizens of the Russian Federation aged from 16 to 60, male," Tsygykal said.
Ukraine imposed martial law this week, citing fears that Russia was planning a full-scale invasion after Russian vessels fired on and captured Ukrainian ships last weekend.
2) Merkel to miss start of G20
German Chancellor Angela Merkel was set to miss the opening of the G20 summit in Argentina after a technical problem forced her government plane to turn back.
The Airbus A340 aircraft carrying Merkel and her delegation to the Group of 20 (G20) summit encountered difficulties an hour into the 15-hour flight to Buenos Aires. It made an unscheduled but safe landing at Cologne-Bonn airport.
The German leader and Finance Minister Olaf Scholz were due to resume their journey early on Friday, flying to Argentina via Madrid, but will arrive after world leaders start their discussions.
3) Trump-Putin meeting
US President Donald Trump says he has cancelled an upcoming meeting with Russian President Vladimir Putin because of the Russia-Ukraine standoff.
Taking to Twitter on Thursday, Trump said his decision to cancel the meeting with Putin was based on the fact that the Ukrainian ships and sailors seized by Russia on Sunday have not been returned.
4) 'Gilets jaunes' spokespeople to meet French PM
Spokespeople for the "gilets jaunes" (yellow vests) protest movement have said French Prime Minister Edouard Philippe wants to meet them on Friday.
The meeting will take place on the eve of the gilets jaunes' third weekend of national action, with violence erupting on last Saturday on Paris' famous Champs-Elysées.
It came as official spokespeople Eric Drouet and Priscillia Ludosky confirmed on Tuesday that another protest was to go ahead on the Champs-Elysées on Saturday.
5) Madrid to stage South America's postponed Copa Libertadores final
The Copa Libertadores final second leg between Argentine clubs River Plate and Boca Juniors is to be played in Madrid in December.
The South American Football Confederation (CONMEBOL) announced the move on Thursday after the original clash scheduled to take place in Buenos Aires was postponed due to crowd violence.
Boca players were hurt when River supporters attacked their coach.
The match is now due to kick off at 8.30 pm CET on Sunday, December 9, at Real Madrid's Santiago Bernabeu stadium. CONMEBOL's president Alejandro Dominguez described the Spanish capital as one of the safest cities in the world.
You can follow Euronews' live news coverage between 6am and 12pm every day here: