Finland summons Russia ambassador over jammed GPS during NATO drills
Comments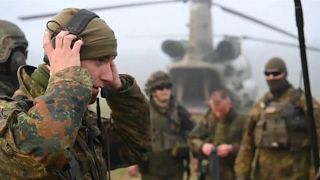 Helsinki have summoned Russia's ambassador to Finland, Pavel Kuznetsov, to sit down with State Secretary Matti Anttonen on Monday after accusing Moscow of interfering with their global positioning system (GPS) signal during NATO exercises.
The finnish foreign ministry said Thursday that the source of a large-scale GPS interruption last week in the north of the country came from Russian territory.
"We don't have anything to hide here. Disruption is a serious matter which disturbs civil aviation. We will act towards Russia, we will discuss this and we expect answers," Finnish Foreign Minister Timo Soini said in a statement to public broadcaster Yle.
Moscow have denied involvement.
Norway also reported a loss of its GPS signal in its own airspace when the NATO drills began in October.
Dubbed the 'biggest exercise since the end of the Cold War', more than 40,000 troops from over 30 NATO countries have been participating in the Trident Juncture war games, stretching from the Baltic Sea to Iceland.
Although not a member of NATO, Finland have been taking part in the exercises as an ally.