Migrants try to cross one of world's busiest shipping lanes in dinghy
Comments
By Saphora Smith with NBC News World News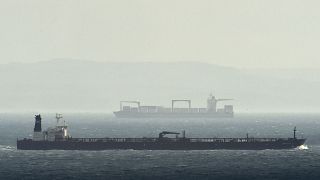 -
LONDON — Migrants are attempting the 21-mile journey across English Channel from France to Britain aboard flimsy inflatable boats, canoes and even water scooters.Video footage that aired on"Good Morning Britain"Tuesday showed U.K. authorities picking up nine people who had attempted to traverse one of the world's busiest shipping lanes in a rubber dinghy. Those rescued included four children.
More than 100 migrants have attempted the crossing in the past three weeks, according to British media reports.People attempting to reach Britain illegally from France have traditionally hidden themselves in or under trucks traveling by ferry or train through the so-called Chunnel.
But tighter security checks mean that some migrants are now see the waterway as an option.Earlier this month, 48 migrants were rescued in the English Channel in the space of just two days, according to British lawmaker Charlie Elphicke."To see this number or brazen attempts to break into Britain, even as winter sets in, is unprecedented and deeply concerning," Elphicke wrote in a newsletter to his constituents. "These people are desperate to reach our shores — and they will keep trying by any means possible."
Elphicke, who is a member of the ruling Conservatives, called on British and French authorities to do more to deter people from attempting the crossing.Britain's interior ministry — which is known as the Home Office — says it has stepped up deployments of patrol vessels along the southeast coast of England.Some migrants told NBC News' British partner ITV News said that they knew of other people who had arrived in the U.K. by swimming and then catching hold of passing ferries."I saw a lot of people who broke a hand or an elbow or they were ill after they got cold," one said.
In one incident earlier this month, a group of 17 migrants stole a fishing boat from a French port and sailed across the English Channel. Last week, two men were jailed for eight years for smuggling people into the U.K. in small boats.And in September, seven members of an organized crime group who tried to use small boats and a water scooter to smuggle people into the U.K. were jailed for a total of 48 years and three months.