IKEA store in Italy opens its doors to stray dogs
Comments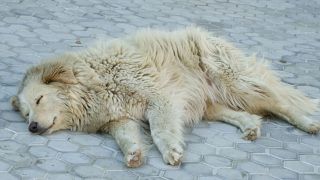 Stray dogs are feeling the warmth after an IKEA store in southern Italy opened its doors to them.
Video and photos of the dogs were posted on social media, sparking praise for the outlet's gesture.
Staff at the shop in Catania, Sicily, gave the dogs rugs to sleep on and even groomed and fed them.
IKEA, in a statement to Euronews, said: "Strays are a widespread problem in Sicily and IKEA has always been sensitive to animal issues and welfare.
"Specifically, this problem has been affecting our store in Catania for quite some time now, as there are many stray dogs who are normally hanging around the car park outside the store."
IKEA also runs a 'Home for Hope' campaign to get families to rehouse stray dogs. Photos are taken and put in their showrooms to encourage adoption.