Germany and France agree on new joint fighter jet contract
Comments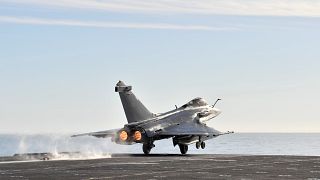 Copyright

France Picture Service
Germany and France have agreed on a contract with Airbus and Dassault Aviation to begin work on a next-generation fighter jet in 2019.
"This is a decisive step for European defence, which shows that France and Germany can unite for future projects," the two governments said in a statement.
Both Macron and Merkel have stressed the importance of forming an independent European military force in recent weeks.
The statement said the French and German defence ministers agreed on Monday that Airbus and Dassault would co-lead a study on a common concept for Future Combat Air System (FCAS), to include a jet fighter and a range of associated weapons, including drones.
Industry sources told Reuters the study would last two years, while more specific details would be announced at the Paris Air Show in June 2019.
Peter Harster, director of the Next Fighter Project at MTU, told Reuters he welcomed the commitment to build demonstrators for both the new aircraft and its engine, saying it would be crucial to test new technologies such as 3D printing and emerging materials.