Spanish train derails, Brussels stabbing and Aquarius seized: Five European stories to know about
Comments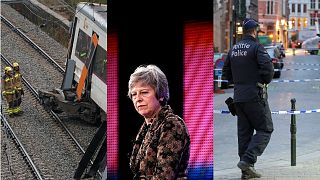 1. Spanish train derails
One person was killed when a commuter train derailed on Tuesday morning in Spain's northeastern region of Catalonia.
The incident occurred shortly after 06:00 CET near Vacarisses due to a landslide.
The R4 service train was carrying 131 passengers and at least eight were transported to nearby hospitals. Authorities said most of the injuries were minor.
2. Stabbing in Brussels
A knife-wielding assailant stabbed a police officer outside a central Brussels police station early on Tuesday morning.
Authorities confirmed that the officer, whose name has not yet been released, was taken to hospital but that his life is not in danger.
The attacker was shot and is also receiving treatment.
An investigation has been launched to determine the motive with investigators tasked to look into all avenues, including potential links to extremist groups.
Belgian Interior Minister Jan Jambon condemned the attack as a "cowardly act."
3. Italy seizes Aquarius migrant rescue boat
The Catania Public Prosecutor has ordered the seizure of migrant rescue boat The Aquarius and is investigating the NGO that runs the boat on charges of illegal disposal of waste.
The prosecutor's office said in a statement that 24 suspects have been "systematically, sharing, planning and carrying out a criminal project of illegal disposal of a large quantity of hazardous waste at infectious risk, health and other, deriving from the relief activities."
The Doctors Without Borders NGO, which was onboard the boat during its rescue missions, blasted the move as "a disproportionate and unfounded measure, purely aimed at criminalising lifesaving medical-humanitarian action at sea."
It said it would appeal the decision.
4. Spain could reject Brexit deal over Gibraltar: PM
Spanish Prime Minister Pedro Sanchez said on Tuesday that he will not approve the draft Brexit deal if it is not changed to state that "the situation in Gibraltar should be negotiated directly between Spain and the United Kingdom."
The comments come just a day after the EU's chief Brexit negotiator, Michel Barnier, told reporters that EU affairs ministers had all approved the deal.
EU leaders are scheduled to meet on Sunday to approve the Withdrawal Agreement.
5. Renault board to meet following CEO arrest
French car manufacturer Renault confirmed that its board will meet on Tuesday evening following the arrest of CEO Carlos Ghosn in Tokyo.
The board is to discuss interim governance after Nissan revealed on Monday that an internal investigation had found Ghosn guilty of financial misconduct and that it would move to fire him as chairman. The Brazilian-born businessman allegedly under-reported his remunerations to Japanese tax authorities and accessed corporate assets for personal use.
French Economy Minister Bruno Le Maire told France Info radio on Tuesday that Renault needed to put an "interim governance" in place. He added however that the French state, which owns 15% of the Renault group, would not push for Ghosn's dismissal "for a simple reason: we do not have proof."
As it happened on Tuesday, November 20
This is how we covered key developments this morning: