Scottish FM, Labour leader call on Parliament to reject 'blindfold Brexit' bill
Comments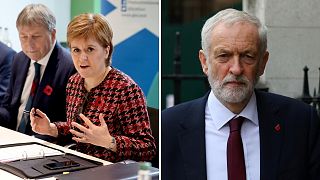 Scotland's First Minister Nicola Sturgeon has called on her colleagues in the House of Commons to vote down a bill to approve Theresa May's draft Brexit plan, which won widespread support from European leaders last week.
In an interview with the BBC on Sunday, the pro-Remainer said: "There is no clarity whatsoever about the future relationship between the UK and the EU, so the House of Commons is going to be asked to effectively endorse a blindfold Brexit."
It follows comments she made about the draft deal earlier this week saying "it would be a mistake and deeply irresponsible" for MPs to back the bill in Parliament.
Her position aligns with pro-Brexit Labour leader Jeremy Corbyn, who said Sunday that he would not support the agreement in the upcoming vote, yet opened up about the possibility of a second referendum being held, despite telling Der Spiegal last week that "we can't stop it".
"It's an option for the future, but it's not an option for today, because if we had a referendum tomorrow what's it going to be on? What's the question going to be?" He told Sky News.
Theresa May will return to Brussels this week to finalise the draft Brexit deal agreed by UK-EU negotiators, with a summit date set for November 25.