Norwegians protest against restricting abortion as PM tries to cling to power
Comments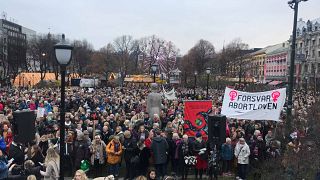 Thousands in cities across Norway have been protesting against proposals to restrict women's access to abortion.
"My body my right" and "Defend abortion" were among the messages scrawled on banners and signs in Oslo on Saturday.
Moves to tighten abortion law have been raised as Prime Minister Erna Solberg seeks to prop up her minority coalition government with support from the Christian Democrats.
To appease the socially conservative party, she has proposed to amend legislation which permits abortions after 12 weeks in cases of multiple births and "serious illness", where the fetus suffers from a genetic abnormality.
In an interview with broadcaster NRK ealier this month, deputy leader of the Christian Democrats Kjell Ingolf Ropstad said: "It is discriminating to select on the basis of having different skills ... Children with Down syndrome should have the same legal rights as other children."
At present, abortions after 12 weeks in Norway are permitted at the discretion of a panel of two hospital doctors. If an abortion request is rejected, the decision can also be appealed.