Polar bears and freezing temperatures — Arctic photographer Anna Filipova describes the perils
Comments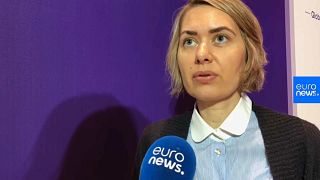 Anna Filipova has made a career taking photographs in the Arctic's hostile landscapes, venturing to remote and inaccessible areas.
The temperatures can hit -46 °C, which means her equipment sometimes doesn't hold up and she's often forced to take backup cameras.
Filipova also had to learn how to use a gun to defend herself against polar bears and how to ride solo on a dogsled, but she doesn't think the danger involved in her job is what puts other women off.
"Women are as well prepared as men," she told Euronews at the Women's Forum Global Meeting 2018. "They just aren't given the opportunity to do this work."
In fact, the photographer has pitched projects only for them to be turned down by media because the Arctic "is not a place for women".
Filipova, whose latest work was in Qaanaaq, the northernmost town in Greenland, hopes to highlight issues threatening the environment with her photographs.
"All the changes that are happening in the Arctic are going to affect us and I'm just trying to convey this message," she said.
Anna was one of 11 candidates nominated as the Rising Talents 2018 at the Women's Forum.