Eco and ethical travel top agenda at World Travel Market
Comments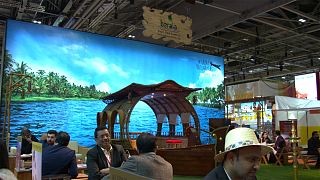 Sustainability, eco and ethical tourism were the hot topics at The World Travel Market 2018. It's the global event for the travel industry, spawning over a million meetings and resulting in just under 3 billion euros in contracts. Ideas are shared and destinations explored as the biggest tourism providers come together. Guatemala, Guangxi in China, Japan, and Nashville USA are just some of the places embracing travel for the more conscientious visitor.
Jorge Mario Chajón, Guatemala's Tourism Minister, (Instituto Guatemalteco de Turismo - INGUAT) - told Euronews that "travellers are always going to lean towards a destination that has sustainable practices and ethical tourism" adding, "in Guatemala we are affiliated to an international organisation that's against human trafficking and is also protecting communities from sexual tourism and abuse of minors."
14000km away in China, Guangxi is one of the world's ecological hotspots with its green mountains, breathtaking waterfalls, and winding rivers. The conservation and preservation of the environment is a major priority for the tourism board and ecotourism is one of Guangxi's largest resources. "We are now developing sustainable tourism, especially focusing on the ecological protection of the ecological environment," said Li Guang Jun, Deputy General of the Guangxi Tourism Development Commission.
And Nashville, USA has gone green too. Butch Spyridon, President and CEO of the Nashville Convention and Visitors Corporation told us the city has the newest gold certified green conference centre in the US and that Nashville has just implemented a city wide recycling programme, "Each of the Honky Tonks sell about a million bottles of beer, so they come by two or three times a day and collect glass bottles and recycle and then we have the first green certified neighbourhood in the entire south east US." Mr. Spyridon said.
As Japan experiences an unprecedented travel boom and the country prepares to host next years' Rugby World Cup and the 2020 Olympics, visitors are being encouraged to explore destinations off the beaten track in a bid to embrace and support sustainable and ethical travel.