Amid Brexit pressure, what next for May?
Comments
By Alice Tidey & Reuters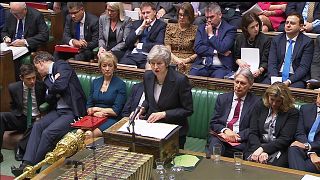 Copyright

Parbul TV/Handout via Reuters

-
British Prime Minister Theresa May's chances of pushing the draft Brexit deal through parliament were severely weakened on Thursday after two of her top ministers resigned in protest.
Brexit Secretary Dominic Raab and Work & Pensions Secretary Esther McVey resigned from Cabinet within an hour of each other on Thursday morning — less than 24 hours after May announced that she had secured her top team's approval for the proposed Withdrawal Agreement reached with the European Union.
The successive resignations were a major blow for May whose chances of getting the deal approved by parliament were already slim.
Here are the different scenarios ahead.
Leadership challenge launched
Since the 2017 snap elections, May has been dogged by rumours of a leadership challenge and Thursday's resignations fanned those rumours further.
The probability of a leadership challenge — also known as a vote of no confidence — has risen in the past few hours and whether May could survive such a vote is uncertain.
In order for a Conservative Party leadership challenge to happen, 15% of the party's MPs must write a letter to the "1922 Committee" calling for a vote. As the Conservative Party currently has 315 MPs, 48 would need to write such letters for a vote to be called.
If a vote is called, May needs to get over half of the registered votes to keep her post. If she loses, she must resign and a leadership election is organised.
Several candidates would then come forward. A secret ballot is held within the party with the candidate securing the least amount of votes getting eliminated. The process gets repeated until two candidates remain standing. The vote to determine the winner is then opened to the wider Conservative Party membership.
Some eurosceptic MPs have publicly said they have submitted such letters but Graham Brady, who as chairman of the "1922 Committee" receives the letters, was reported last month as saying that some of the MPs who claimed to have written such letters had not, in fact, done so.
But Jacon Rees-Mogg, leader of the Eurosceptic Research Group, sent such a letter to Brady on Thursday, in which he said that he's believed for some weeks now that "it would be in the interest of the Party and the country if she (May) were to step aside."
"In accordance with the relevant rules and procedures of the Conservative Party and the 1922 Committee this is a formal letter of No Confidence in the Leader of the Party, the Rt. Hon. Theresa May," he added.
May wins leadership challenge
Should May be faced with a leadership challenge and subsequently win it, she would still need to gather cross-party support to pass the Brexit deal through parliament.
Currently, the Conservatives needs the support of the 10 MPs from Northern Ireland's Democratic Unionist Party (DUP) to pass legislation. But the Brexit referendum, negotiations and now the proposed deal have split the Conservatives, meaning May is not assured her own party will back her.
Support from the DUP is also not a done-deal. Their partnership is informal and when it comes to Brexit, the DUP has not been enthused by May's approach so far.
Their leader, Arlene Foster, listed a whole host of questions she needed answered on the deal before offering her support and a tweet by a DUP MP suggests they know how crucial their support is to the prime minister.
Meanwhile, the main opposition Labour Party has described the Brexit deal as "bad", suggesting they would vote against it.
The Scottish National Party said the agreement "puts Scotland at a serious competitive disadvantage" and the Liberal Democrats, Greens and Wales' Plaid Cymru all said they would oppose the deal.
May loses leadership challenge
If May were to lose a Conservative Party leadership challenge, Britain would then have a new prime minister.
However, that doesn't necessarily mean new elections would be called.
The current term runs until 2022 so bringing forward elections would be at the discretion of the new leader who may well wish to bolster their position.
What happens to Brexit in that case? It cannot exactly be stopped in the sense that whatever happens politically in the UK, the country will leave the EU with or without a deal on March 29, 2019.
A new prime minister could also attempt to get the draft Brexit deal through parliament — although they are likely to face the same arithmetics issues as May currently does.
Motion of no confidence
Opposition parties can also call a motion of no confidence to challenge the government, force it to resign and trigger early elections.
For such a motion to be successful, it must gather the votes of at least two-thirds of parliament. It is more likely to prevail if it challenges a minority, disunited government — which is the current case — otherwise it runs the risk of uniting the ruling party.
The last time such a motion was used effectively was in 1979 when Labour prime minister James Callaghan was defeated by the Conservatives led then by Margaret Thatcher.
An amendment, brought in by the 2011 Fixed-term Parliaments Act, allows a defeated government to overturn the motion if it is able to pass a motion of confidence within 14 days — thus allowing the prime minister to search for coalitions partners.
Could Jeremy Corbyn launch one now? It's difficult to say. 
The Labour leader, who has been described as a "reluctant Remainer", has often appeared at odds with the party's supporters with a vast majority of them backing a second vote. Failure would also probably mean resignation.
There is no leadership challenge
May does not face any leadership challenge, but still faces the issue of getting the deal through parliament.