'El Chapo' lawyer accuses Mexican presidents of taking bribes
Comments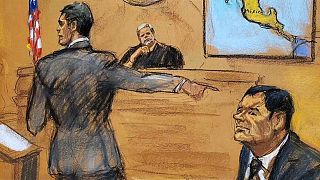 The trial of accused Mexican drug lord Joaquín "El Chapo" Guzmán will head into a second day on Wednesday in a federal court in New York.
El Chapo's defence lawyer dropped a bombshell on the trial's first day, by accusing Mexican President, Enrique Peña Nieto, and predecessor, Felipe Calderon, of accepting hundreds of millions of dollars in bribes from the Sinaloa cartel.
The Sinaloa cartel has played a key position in violence between rival gangs that have torn areas of Mexico apart and challenged successive governments, as well as trafficking drugs to the United States,
A lawyer for Guzman told the jury in opening statements that his client was a scapegoat for the actual leader of Mexico's Sinaloa Cartel, Ismael "El Mayo" Zambada.
Federal prosecutors say that as leader of Mexico's Sinaloa Cartel, Guzman directed huge loads of cocaine, heroin, marijuana, and methamphetamine to the United States.
He faces a likely life sentence if found guilty, and 17 criminal charges.
Defence lawyer Jeffrey Lichtman said "He's blamed for being the leader while the real leaders are living without restrictions and openly in Mexico". He added, "In truth he controlled nothing. Mayo Zambada did."
Lichtman also claimed that Zambada had been left free because he "bribes the entire government of Mexico including up to the very top, the current president of Mexico."
Nieto's responded fast to the accusation. In a tweet, the Mexican president's spokesman said it was his government that "persecuted, captured and extradited Guzmán," and his lawyer's accusations are "false and defamatory."
Also, former President Felipe Calderón denied receiving any money from drug trafficking.
Euronews spoke to Mexican investigative journalist and author of 'Narcoland', Anabel Hernández García, about the trial:
"El Chapo's problem is that he is a victim of his own legend, of the legend that the United States Government and Mexico have created of him," she says.
She agrees with El Chapo's lawyer, "El Chapo has the vision of creating for the first time in Mexico a federation of cartels and achieves the support and backing of the entire Government of Mexico, from the highest level. "
Guzmán started in the drug trade "unconsciously," explains Hernandez, planting marijuana since he was seven years old with his father, like many other children of poor Mexican peasant families in what is known as the "Golden Triangle" - a territory between Chihuahua, Sinaloa, and Durango.
What differentiates it from other Mexican drug traffickers? Hernández asserts that in 2001, 'El Chapo' had the vision of creating for the first time in Mexico a federation of cartels and get the support of the entire Mexican Government, "from the highest level".