Homeless man hailed a hero for supporting police in Melbourne attack
Comments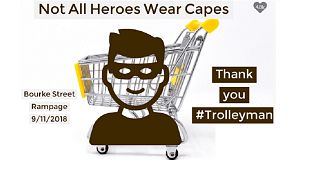 A homeless man who used a shopping trolley to deter a knife attacker in Australia has been hailed a hero.
Michael Rogers, nicknamed "Trolley Man", jumped into action as attacker Khalif Shire Ali lunged at police in a busy shopping district in Melbourne.
Footage posted to Twitter shows his courageous attempt to assist police in their capture as the attack unfolded during rush hour.
Donations of thousands of Euros are flooding in for the 46-year-old homeless man after appreciative members of the public started an online fundraiser for him.
"Our hero is humble as can be and had no idea about this fundraiser," the GoFundMe page reads. "He is amazing. We believe his efforts deserve a reward that can really help him out."
It adds: "He risked his own life that day for nothing in return and you can't put a price on that."
The fundraiser, started by registered charity Melbourne Homeless Collective, has already raised just over 131,500 Australian dollars (€84,000).
But, Rogers insisted he was no hero but acted on instinct.
"I threw the trolley straight at him, and I got him. I didn't quite get him down, though. I'm no hero," he told reporters.
"I did that motion quite a number of times and it just was not getting him down. The guy was out of control so I just went into action mode and tried to swipe him with the trolley."
Rogers also told Australian media he had been on the other side of the law and had a long history of drug abuse.
He said that he had been "in and out of jail" for some 20 years, which including a five-year stretch in prison for burglary.
Somali born Ali, 31, was shot after confronting officers on the street, authorities said. He had already stabbed three people, one fatally, in the attack.
The owner of Pellegrini's cafe on Bourke Street, Sisto Malaspina, 74, was identified as the person who died from his stab wounds.
Police believe Ali was radicalised and inspired by the so-called Islamic State.
His passport was cancelled in 2015 after he made plans to travel to Syria, he was not being actively monitored before the attack.
While Rogers won praise from the community, Victorian Police commissioner Graham Ashton said his intervention could have had "tragic" consequences.
"I don't like to criticise people in that situation, he's acting instinctively about what he's looking at in front of him," he said.
"But if a trolley had hit a police member and knocked him over and then this offender got on top of him, we could have had a tragic consequence."