German president lays wreath at British cenotaph on Armistice Day
Comments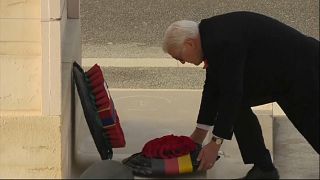 In the UK the annual Armistice Day remembrance service took place at the Cenotaph in central London.
The Prime Minister, Theresa May, was joined by leaders of other British political parties to lay wreaths the monument in tribute to all those who have lost their lives in conflict.
The heir to the throne Prince Charles laid a wreath on behalf of the Queen who looked on from the foreign ministry.
This year's armistice day also marks the 100th anniversary of the end of World War One and representing Germany was President Frank-Walter Steinmeier. The British government described his participation as a historic act of reconciliation. 
The Queens' grandsons Princes William and Harry also took part in proceedings.
In Belgium, silence fell among the thousands gathered at the Menin Gate in Ypres. As the Last Post was played poppies floated down from the gate's high arch. Some 300,000 British and Commonwealth soldiers were killed in the district during WWI - 100,000 bodies were never recovered.