Watch: Rare look inside Chernobyl power plant's radioactive ruins
Comments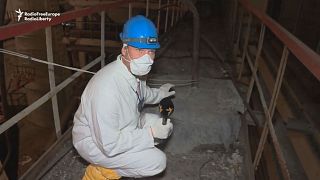 Take a look inside the Chernobyl Nuclear Power Plant with Radio Free Europe/Radio Liberty correspondent Yevhen Solonyna where a catastrophic nuclear accident took place in 1986.
One section of the site, Reactor Number 4, is heavily contaminated with radiation — it is now covered in lead and the radiation level is constantly monitored.
Next to it is the control room of the reactor where tests were held in 1986 that led to the power surge that resulted in a core explosion and fire.
The Chernobyl accident is considered the most disastrous nuclear power plant accident in history, both in terms of cost and casualties.
Experts predict that the site will not be completely dismantled until 2065.