WWI: Macron and May pay tribute at Somme
Comments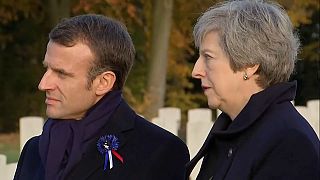 It was a warm welcome as the French President Emmanuel Macron and British Prime Minister Theresa May pay tribute to the fallen fighters of the Somme.
Both leaders laid a wreath at a memorial in the Somme valley, honouring fallen World War One soldiers on the eve of the centenary of the war's end.
The wreath combined the poppy and le bleuet flowers, national emblems of remembrance in Britain and France.
Thiepval's memorial stands on high ground overlooking the Somme river and commemorates more than 72,000 British and South African soldiers who died and have no known grave.
It's also an Anglo-French Battle Memorial, which represents French, British and Commonwealth nations
President Macron's great-grandfather was British and also fought in the trenches at the age of 19.
The wreath they laid, said, "There lie the flower of youth, the men who scorn'd to live (so died) when languished liberty".