Europe starts WWI centenary commemorations
Comments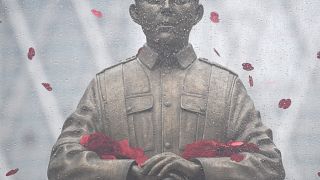 -
Copyright

REUTERS/Toby Melville
European countries are starting commemorations of the centenary of the end of World War I.
French President Emmanuel Macron received German President Frank-Walter Steinmeier on Sunday (November 4) for a concert at Notre Dame Cathedral in Strasbourg.
Later this week, Macron is due to visit former battlefields in France to honour those who died during the war.
On November 11th - the official end of the war - Macron will host an international ceremony in Paris.
In Britain, ten thousand torches lit the moat of the Tower of London in an act of collective remembrance. Inaugurated with a rendition of The Last Post sounding from one of the towers, the display will run for eight nights, leading up to the Armistice day.
In Italy, President Sergio Mattarella laid a wreath at the Tomb of the Unknown Soldier in Rome.
The 1914 "war to end all wars" spread carnage across Europe, especially northern France and Belgium. Seventeen million soldiers and civilians were killed before peace was declared four years later on November 11, 1918.