Trump says California gunman was 'a very sick puppy'
Comments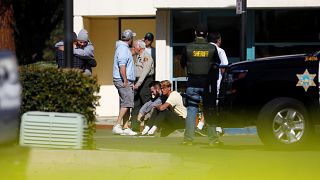 US President Donald Trump said on Friday the gunman who killed 12 people in a crowded South California bar this week was a "very, very sick guy" and speculated the former US Marine veteran could have been dealing with a post-traumatic stress disorder.
Trump described the gunman as "a very sick puppy" who had "a lot of problems."
Investigators have not revealed a motive for the rampage or whether mental illness played a role.
However, neighbours reported hearing frequent loud fights between Ian David Long and his mother, one of them so extreme they called police in April, and authorities at the time worried that the war veteran might have post-traumatic stress disorder.
On Wednesday night, the former machine gunner, dressed all in black with his hood pulled up, opened fire with a handgun at the Borderline Bar & Grill during college night, then apparently killed himself as scores of police officers closed in.
A 27-year-old man who survived last year's massacre at a Las Vegas country music festival was among those killed in the attack.
Telemachus "Tel" Orfanos was at the Borderline Bar and Grill in Thousand Oaks when a gunman opened fire, killing 12 people.
"Here are my words: I want gun control," said Susan Schmidt-Orfanos, her voice shaking with grief and rage. "I don't want prayers. I don't want thoughts."
She said she wanted Congress "to pass gun control so no one else has a child that doesn't come home."