Ukraine threatens Russian visitors to Crimea with prison
Comments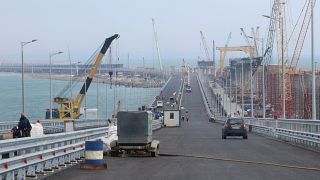 Ukraine's president signed a new bill on Wednesday, which threatens Russians who fly into Crimea with a prison sentence, according to The Associated Press.
Crimea was seized by Russia in 2014, and the land crossing into the peninsula is now controlled by Ukrainian border guards.
Many Russians regard the flight to Crimea as a domestic trip, however, Ukraine believes those journeys are an illegal crossing of the border.
Ukraine's parliament said the president signed a bill making those crossings a criminal offence, which could be punishable by up to three years in prison.
It means that any Russians who fly or drive there via a bridge linking it to Russia's mainland will face criminal charges in Ukraine.