This is Europe's 'most innovative city'
Comments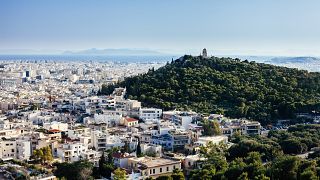 Athens has been named as Europe's 'most innovative city' by the European Capital of Innovation contest and has been awarded a cash prize of €1 million.
Athens was chosen for a range of projects it has implemented, including its 'Curing the Limbo' initiative which helps migrants and refugees connect with local residents in order to learn the language, find employment, gain skills and engage in the community.
Other examples of innovative projects from the city included its offer of digital literacy training, a project to revitalise abandoned buildings by giving grants to local organisations, and the 'This is Athens' campaign which invited volunteers to record information about the city, past and present, for visiting tourists.
The winning city was announced by Carlos Moedas, Commissioner for Research, Science and Innovation, in a ceremony at the 2018 edition of Web Summit in Lisbon, the world's largest tech event: "Athens stands out as an example that a city facing many challenges can achieve great things," he told the audience. "Through innovation, Athens has found a new purpose to turn around the economic and social crisis. It is proof that it's not the difficulties but how you raise yourself above them that matters."
The prize, funded under Horizon 2020, the EU's research and innovation programme, is given to the city which has shown outstanding use of innovation to improve lives for its citizens and businesses.
Five other cities made it to the final stage of the awards, including Aarhus (Denmark), Athens (Greece), Hamburg (Germany), Leuven (Belgium), Toulouse (France), Umeå (Sweden). Each of the five finalist cities takes home €100,000.
To take home the award the cities must convince a panel of independent experts that they use innovative concepts and processes that engage and empower citizens and help improve the resilience and sustainability of the cities.
This year twenty-six eligible cities from 16 countries applied to the competition. Barcelona, Amsterdam and Paris won the prize in 2014, 2016 and 2017 respectively.