Europe briefing: Five stories to know about today
Comments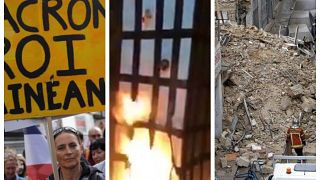 1. Marseille building collapse, one body found in rubble
As many as eight people might have died in the southern French city of Marseille in two building collapses, officials said Tuesday after the first body was pulled out from the wreckage.
Rescuers worked throughout the night to look for victims in the rubble of two dilapidated apartment blocks, which collapsed suddenly on Monday morning not far from the centre of the Mediterranean port city.
There are between five and eight people missing, Interior Minister Christophe Castaner said late Monday, with authorities trying to trace five residents and three other people who had been invited to the buildings.
2. Five surrender to police over burning effigy of Grenfell Tower
Five people were arrested in London on Monday after a video posted on social media showed a group burning an effigy of Grenfell Tower, the public housing block where 72 people died in a massive blaze in 2017.
In a statement, London's Metropolitan Police said five men, aged 19 to 55, were being held on suspicion of a public order offence after they turned themselves in to a south London police station.
The men were not identified and additional details were not immediately available.
3. Nazi guard trial
A 94-year-old former Nazi Guard went on trial today.
Charged with aiding and abetting the murder of several hundred concentration camp prisoners, he faces 15 years in prison.
Johann Rehbogen is accused of working as a guard at the camp east of Danzig, which is today the Polish city of Gdansk, from June 1942 to September 1944.
4. Planned fuel protests could bring France to a standstill
A mass blockade of French roads is planned for later this month and opinion polls are showing widespread support for the demonstration.
The 'yellow vests' — a growing social movement in France is planning to block roads and bring traffic to a standstill in protest over the rising cost of diesel and petrol.
President Emmanuel Macron went on the radio on Tuesday morning to defend his policy, inisisting that fuel taxes must rise.
5. The Spice Girls are back, minus one
British girl band the Spice Girls have finally given fans what they want, what they really, really want.
The iconic 90s group are reuniting, minus Victoria Beckham, to bring back girl power for a six-date UK tour in June 2019.
As it happened on Tuesday, November 06
This is how we covered key developments this morning: