Michelin Star Chefs cook for homeless in Belgium
Comments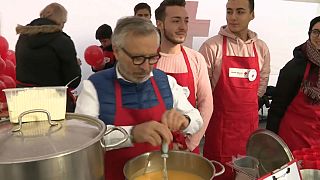 Six Michelin Star Chefs cook 200 litres of soup for the homeless in Brussels.
The meals are being served at the Place de la Monnaie to those in need of a hot meal.
Michelin Star chef Giovanni Bruno says, "It's pumpkin soup, with hazelnuts and spices – that are here. And, we add the hazelnuts. And, then there is already parmesan crème inside, but we add a bit to the side."
It's part of a Belgium Red Cross winter initiative.
Alexandre Dionisio, Michelin Star chef says, "You know, I woke up this morning and realised that it was very, very cold. And, I really feel that I`m doing something good with my colleagues, and to do our little part, for those less fortunate."
According to the Red Cross, around 2.3 million people in Belgium are at risk of poverty or social exclusion.
Nancy Ferroni, spokesperson of the Red Cross of Belgium says, "Whether it be through our socially-orientated shops or our soup kitchens that we open up in winter, we are going to open two new ones this winter and help with food parcels that we distribute all year round."
Homeless woman says, "It warms you up, it does good to the body. Because, the body is suffering."
The charity also encourages people to go on their e-shop to buy food to help families