Technology to help stroke survivors recover
Comments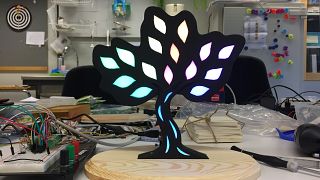 -
Copyright

The Certec lab at the Faculty of Engineering at Lund University in Lund, Sweden
Recovering from a stroke, even partially, can take years.
Survivors of strokes need to keep active long after they have left the rehab's facilities — and with expensive equipment, it is not always easy.
The Certec lab at the Faculty of Engineering at Lund University in Lund, Sweden, has developed interactive devices that offer physical activities for stroke survivors, provide intuitive feeback that can help them train at home.
"After the initial rehab, patients have a big need for support," Charlotte Magnusson, a researcher at Lund University who has led the Certec project, said.
"After a stroke, you need to change your lifestyle," she added.
To help, Magnusson's team developed a balance mat and a game app for recovering patients to exercise their balance.
The app tracks the user's steps and encourages walks.
The mat, which is suitable for the home, shows the user's centre of gravity and weight distribution, plays music and offers three simple games to exercise balance.
In one, the user must balance the mat to drive a virtual vehicle and avoid rocks; in another, it is a paddle boat that can be moved by balancing; in a third, a bomb drops if the user stays out of balance too long.
"Patients thought they were kind of fun", Magnusson said. "Balance is the key thing."
"If you have really bad balance, you could sit on the mat and only work with your upper body."
She added that the team will develop more games to accomodate for the time the patients will use the mat — sometimes for several years.
Both the mat and the app are connected to feedback lights that light up when an activity is duly completed.
The lights allow the user to set their personal goal, aiming for two, three or more lights to go up, Magnusson said.
Lund University's devices project is one of ten projects nominated for the European Commission's Innovation Radar Prize 2018 in the 'Industrial & Enabling Tech' category.
The mat, made of conductive fabric, measures about 30cm x 45 cm.
Hospitals sometimes have similar devices, but Magnusson's project would be the first mat for the home.
"After a stroke, you need long-term support.
"Usually, after two to six months, you're home on your own," she said.
The mat would help ongoing recovery on the patient's own terms.
A feasibility study is currently under way for the project in Iceland. Magnusson hopes to bring it to the market and hopes it won't cost more than "a couple hundreds euros".
The European Commission's Innovation Radar Prize 2018 in the 'Best early stage innovation' category recognises innovations showing promise at early stages in EU-funded research.
ZSI, Bavenir, Politecnico di Torino, Sintef, Evrything, Xlab, Sygic, Netis and Bioinicia are alongside Lunds University in this category.
You can vote online for the project of your choice and the results will be announced at the ICT 2018 event in Vienna in December.