French gender equality minister donates hair to cancer patients
Comments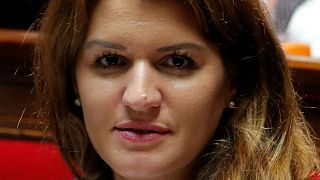 France's gender equality minister Marlène Schiappa has donated her hair to a charity that makes wigs for women suffering from cancer.
Schiappa announced the action on her Facebook page along with photos, as she encouraged other women to do the same.
"When a woman suffers from cancer, the bill increases fast and goes well beyond medical care... for example, for those who lose their hair with treatment and don't always have the means to buy a wig if they want it," she wrote.
In donating her hair, Schiappa joined many other women who took the action during Breast Cancer Awareness Month in October.
The politician said she had been reluctant to go public with the personal action, but wanted "to make this initiative known to all those who can and want to contribute".
Schiappa said she was inspired to donate her hair by her sister, who does so every two years.
"We send all our positive thoughts of solidarity to brave women who face cancer right now," she wrote.
An estimated 18.1 million new cancer cases will be diagnosed worldwide in 2018, according to figures released by the International Agency for Research on Cancer in September.
Despite being home to just 9% of the global population, Europe is to account for 23.4% of new cases and 20.3% of cancer deaths, the research agency said.