Mueller refers sex assault scheme targeting him to FBI for investigation
Comments
By Tom Winter and Adiel Kaplan with NBC News Politics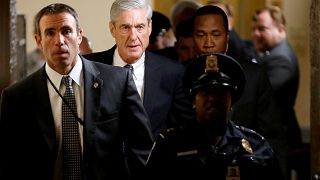 Copyright

Joshua Roberts Reuters file

-
Special counsel Robert Muellerlast week asked the FBI to investigate a possible scam in which a woman would make false claims that he had sexually assaulted her, after several political reporters were contacted about doing a story on the alleged assault.
Multiple reporters were contacted over the past few weeks about a woman who was willing to say she was sexually assaulted by Mueller, the special counsel who is probing possible collusion between the Trump campaign and Russia. After investigating the allegations, according to the political website Hill Reporter, the reporters each independently determined them to be a hoax and that the woman had been offered a significant amount of money to make the claim. The reporters then contacted the special counsel's office to report that they had been approached regarding an alleged sex assault.
"When we learned last week of allegations that women were offered money to make false claims about the special counsel, we immediately referred the matter to the FBI for investigation," said Peter Carr, spokesperson for the special counsel.
While investigating the possibility of a hoax, the Hill Reporter's Ed Krassenstein, who was one of the reporters contacted, said he received threats, including a text message reading, "You're in over your head…. Drop this" which included his and another editor's home addresses.
Around the same time reporters began to be contacted about the assault allegations, Jack Burkman, a Republican lobbyist and radio host began promoting, via his Facebook page, that he is investigating sexual misconduct and alcohol-related allegations against Mueller. On Tuesday morning he tweeted that he would hold a press conference two days later to "reveal the first of Special Counsel Robert Mueller's sex assault victims."
Over the last two years, Burkman has peddled a separate, evolving conspiracy theory that has blamed several different wild plots forthe death of Democratic staffer Seth Rich, who was shot on a Washington street in 2016 during an apparent botched robbery.