Forensic advances led to speedy arrest in bombing case
Comments
By Phil McCausland with NBC News U.S. News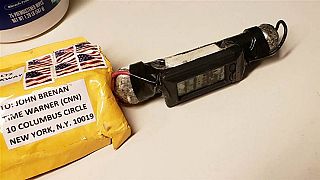 Liberal billionaire philanthropist George Soros received the first of 14 bombs on Monday at his home in Katonah, New York, that a man with right-wing extremist views allegedly sent to prominent Trump critics. In mere days, multiple law enforcement agencies worked together and apprehended the suspected culprit in Plantation, Florida.
Authorities rushed to find the man, identified as Cesar Sayoc, 56, allegedly behind what FBI Director Chris Wray characterized as a series of improvised explosive devices made of "roughly six inches of PVC pipe, a small clock, a battery, some wiring and what is known as energetic material" that were sent to sitting senators and former presidents.
Though stakes were high, all it took was for a team of law enforcement agencies to work together and find a single fingerprint and a small amount of DNA to track down Sayoc, an Aventura, Florida, man who boasted a long arrest history and is now being held at a federal detention center in downtown Miami.
"This is phenomenal work with the greatest pressure under an incredibly tight time frame," FBI Director Chris Wray said on Friday. "We see unbelievable work like this on TV and in Hollywood, but to see it up close in reality is something to behold, and we are so proud for our team at the lab for their work in keeping people safe and helping to find the individual responsible."
Experts say the size of DNA and fingerprint databases and the ability of these different agencies to get over old rivalries and work together made the speed of the investigation move much faster.
Sayoc was most recently fingerprinted in 2015 in Palm Beach County for stealing a hard rolling briefcase and garment bag from a local Walmart — items valued at $58. It's that fingerprint that acted as the major break in the case, which greatly differed with investigations in the past.
"In the old days you pulled fingerprint cards, and you had to eyeball the comparison print," said Frank Figliuzzi, who served as assistant FBI director until 2012. "You had to look for loops and whorls and arches. Now it moves at the speed of pressing a key on your keyboard. Your computer spits it out and says, 'Here's your guy.'"
And they had a wealth of material to work with, Figliuzzi added.
"If you have 10 or more intact devices, that's a laboratory scientist's nirvana," he said.
While this case came to a speedy conclusion, past famed mail-based investigations took years to solve. It took authorities nearly 20 years to track down the Unabomber — as Ted Kaczynski was known — an individual who killed three people and injured 23 with mail or hand-delivered bombs. The FBI closed its investigation of the 2001 anthrax attacks that killed five and injured 17 in 2010, but no arrest was ever made as the main suspect died of suicide.
But the fingerprint found on the envelope of a bomb intended for Rep. Maxine Waters, D- Calif., and a small amount of DNA discovered on two of the other packages were key in breaking the case, authorities said.
Mail explosives
It's helped that agencies nationally, regionally and locally now share their fingerprint and DNA databases, Dr. Peter Stout, the president of the Houston Forensic Science Center, said. It means that the scale of fingerprint and DNA databases are now immense, and there's a much larger pool of individuals to pull from. On top of that, investigator and laboratory scientists' forensic understanding of DNA material has advanced, requiring much smaller samples.
"Not that many years ago we needed a lot more DNA to develop a profile, but the chemistry has gotten so much more sensitive that we can work with a lot less DNA," Stout said. "Ten years ago, it required a spot of blood the size of a quarter, but now we can do it with a head of a pin. That's made touch DNA a lot more positive."
But experts don't just credit advances in DNA and fingerprinting as being the sole reason for the swift resolution to the case.
Bill Bratton, the former New York Police Department commissioner, noted that none of the agencies in Friday's news conference fought to take credit for the arrest and that representatives of multiple law enforcement agencies could be seen at the scene of the arrest working together, proving that "this was a joint effort."
Figliuzzi, the former FBI assistant director, agreed with that assessment, especially on how the relationship between the FBI and NYPD have progressed.
"It's more proof to the public that the turf battles and tensions and warfare that existed between the NYPD and the FBI are gone. There's not a hint of that in this case, but quite the opposite, all we're hearing is it was a seamless operation," said Figliuzzi, who also highlighted the United States Postal Inspection Service as unsung heroes of the case. "A few years ago there'd be some battles, but none of that is here and that's because of the tremendous respect that has been earned on all sides."