Election day: Georgians hit the polls
Comments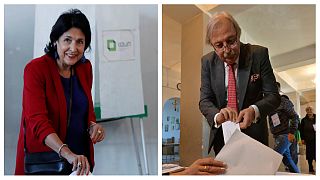 Georgians are heading to the polls for presidential elections on Sunday.
Two former foreign ministers Salome Zurabishvili and Grigol Vashadze -are the frontrunners. That's according to party-backed surveys.
If Former French career diplomat Zurabishvili takes the vote, she will be the first female leader of an ex-Soviet state outside the Baltics.
The ruling Georgian Dream party is backing the 66-year-old who was born to Georgian immigrant parents in France. The party is a coalition that has elements of both left and right wing ideology -
Her main opponent, Grigol Vashadze is running on behalf of a new platform of 11 opposition parties led by former President Mikheil Saakashvili's centre-right United National Movement.
This is the last vote in which the country's president is selected by popular vote. In future, presidents will be picked by an electoral college of 300 legislators and regional officials.
Results are expected late on Sunday.