Van connected to pipe bomb suspect was covered in pro-Trump images
Comments
By Minyvonne Burke with NBC News U.S. News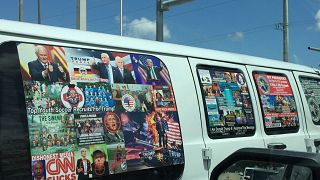 The vehicle connected to the Florida man arrested Friday for allegedly mailing a series of pipe bombs to prominent Democrats and others who have publicly criticized the president was covered with pro-Trump and Republican decals.
The white van was seized and taken to a secure location shortly after authorities arrested 56-year-old Cesar Sayoc Jr., who is expected to be charged with allegedly mailing the packages.
Photos of the van show blackened windows littered with stickers attacking the media, including one ripping the "dishonest media" along with a disparaging comment about CNN.
CNN's New York City office was evacuated on Wednesday after a package containing a pipe bomb was found in the mailroom. The package was addressed to former CIA Director John Brennan. A package sent to former Director of National Intelligence James Clapper discovered Friday also used CNN's New York address. Clapper is a CNN contributor.
Other images plastered across the windows included messages supporting president Donald Trump and the presidential seal. A decal on a back window placed what appeared to be a shooting target on the face of former Secretary of State Hillary Clinton, who was also the target of one of the packages.
Secret Service intercepted the one sent to her at a mail facility on Tuesday before it could reach her and former president Bill Clinton's Chappaqua, New York home.
Police were seen in Plantation, Florida on Friday covering the fan with a tarp and taking it to a secure location.
Others who received packages included former president Barack Obama, billionaire George Soros, former Attorney General Eric Holder, Rep. Maxine Waters, D-Calif., actor Robert De Niro, Sen. Cory Boooker, D-N.J., former Vice President Joe Biden, Sen. Kamala Harris, D-Calif., and another to billionaire hedge fund manager Tom Steyer.
Sayoc, a Florida resident, is charged with five federal charges and faces up to 58 years in prison, authorities said, adding they used DNA samples found on some of the packages and compared it to samples they already had on file. A fingerprint was also found on one of the packages sent to Waters, officials said.
Sayoc is a registered Republican who has lived in New York, North Carolina, Michigan, New Jersey.
Authorities said Sayoc was arrested before, including in Miami-Dade in 2002 when he made a bomb threat.