Ryanair passenger seen on video yelling at black woman says he is not racist
Comments
By Minyvonne Burke and Associated Press with NBC News World News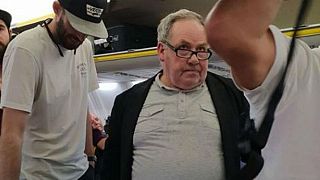 A Ryanair passenger caught on video yelling and cursing at an elderly black woman because she didn't get up from her seat insists he's not a racist, as the European airline tries to distance itself from the incident and subsequent backlash.
David Mesher apologized to 77-year-old Delsie Gayle saying that he lost his temper when she "didn't seem to want to get up" as he was trying to get to his window seat.
"I'm not a racist person by any means and it was just a fit of temper at the time, I think," he said Friday on "Good Morning Britain."
Mesher, who was seen on the video calling Gayle a "black b*****d" and "stupid ugly cow," said he "absolutely" regrets what he said and if given the chance would apologize to Gayle and her daughter, Carol.
Ryanair has faced criticism over the past few days on how they handled the Oct. 19 situation with many people calling out the company for switching Gayle's seat and not removing Mesher from the plane.
The European airliner moved to distance itself from the backlash.
In a statement released Friday, the airline said they addressed the incident in a timely manner and crew members were unaware of the racist language Mesher used when he screamed at Gayle as passengers were boarding the London-bound flight at Barcelona Airport.
They said they moved Gayle to a new seat because she wanted to sit next to her daughter, and they allowed Mesher to remain on the flight because there wasn't a threat.
"As the cabin crew believed they were dealing with an argument between two passengers, they followed company procedure, to defuse the argument, and separate the passengers by offering to move one to alternative seating," Ryanair said in a statement.
"As far as the cabin crew were concerned, that was the end of the matter, and since there was no threat to aircraft safety, the issue of offloading one passenger did not arise.
"Ryanair also said it sent a letter to Gayle saying it "will not tolerate unruly behavior" and they reported the incident to police at London's Stansted Airport.
Gayle told "Good Morning Britain" Friday that she feels Mesher "abused" her and it's going to take her a long time to move past what happened.