Ryanair sacks cabin crew pictured 'sleeping on airport floor' | #TheCube
Comments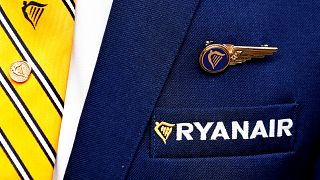 Copyright

Reuters/Francois Lenoir

-
Budget airline Ryanair has confirmed in a statement to Euronews this morning that it has sacked six cabin crew involved in "staging a fake photo" of them sleeping on the floor of a Spanish airport last month.
The picture in question was widely circulated on social media last month and was said to show six Portugal-based cabin crew members "sleeping" on the floor in a room at Malaga airport after Storm Leslie disrupted flights.
"All six cabin crew members were dismissed for breach of contract on grounds of gross misconduct," the airline said in the statement.
It was "behaviour which damaged their employer's reputation and caused an irreparable breach of trust with these persons".
Former Ryanair pilot Jim Atkinson initially tweeted the photo asking why the airline had not booked the stranded crew into a hotel for the night.
In response, Ryanair's chief operating officer Peter Bellew apologised to the crew for not finding accommodation for them, saying all the hotels in Malaga were "completely booked out" that night, but added that the crew were later moved to a VIP lounge.
The picture went viral, garnering thousands of likes and shares - and much criticism of Ryanair from social media users.
Ryanair later released CCTV footage of the room in Malaga airport, showing the crew assembling themselves to take the photo.
In a statement posted by the Facebook group 'Ryanair MUST Change' to the social media platform, the National Union of Civil Aviation Flying Personnel - the union representing Portuguese air crew - said the crew were left for several hours before being moved to a lounge area, maintaining that they should have been provided proper accommodation.
In a separate statement posted on the same page, one of the stranded crew members said the photo was "taken as protest to prove Ryanair gave us no other option to rest after more than 12 hours on duty in some cases".
It continued: "We were stranded in an airport's restricted area, which means we didn't have freedom to move around without being escorted for 13 hours. Part of that time was spent in an area with no seating for all 24 people stranded there. No access to food or potable water for 12 of those 13 hours."