Juncker in Tunisia: Migration issue overshadows trade talks
Comments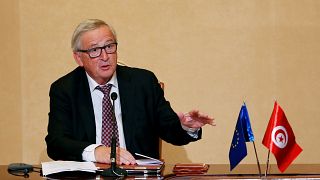 European Commission President, Jean-Claude Juncker is on a two-day visit to Tunisia.
The politician was hoping to keep the trip focused on trade, but it has been overshadowed by migration.
Euronews correspondent, Anelise Borges got rare access to the President and she said that "it was quite interesting to see, how reluctant Jean-Claude Juncker was, to even talk about the topic,"
When asked whether migration will spell the end of the European Union, Juncker said: "It's difficult, it's demanding... but the European Union is not on the way to be divided. Definitely not."
Juncker also insisted that he did not want to reduce the relationship between the EU and Africa to migration.
He said: "It's a humiliation for Africa that we are analysing all the relationships we have with Africa through the migration perspective. That's the European way of lecturing others. But that's not my way."
Jean-Claude Juncker will stand down as head of the European Commission next year, and there are many names circulating for his replacement, including Matteo Salvini, Italy's interior minister and German Chancellor Angela Merkel.
"Salvini is not in a situation to run for the presidency of the Commission. And I don't think that Mrs Merkel wants to do so," Juncker said.
Jean-Claude Juncker will hold talks with the Tunisian Prime Minister today, followed by a meeting with a group of young people.