Watch: NATO kicks off largest exercise since Cold War in Norway
Comments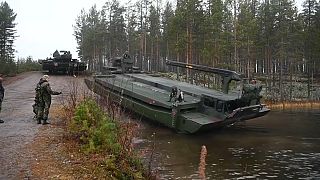 Military forces from 31 countries began NATO's largest exercise in decades on Thursday, practising military manoeuvres close to Russia, which held a vast military drill last month.
The operation, named Trident Juncture 18, the North Atlantic alliance's response to a mock attack on Norway.
Over two weeks, drills will stretch from the Baltic Sea to Iceland.
As temperatures fell below freezing this week across training grounds in central Norway, around 50,000 troops, 250 aircraft, and 10,000 tanks, trucks and other land-based vehicles stood ready.
The drills came amid questions of unity concerning the military alliance and US President Donald Trump's criticism of NATO.
Increasingly worried about Russia since it annexed Crimea in 2014, Norway has doubled the number of US Marines receiving training on its soil every year.