NATO exercise: 50,000 personnel take part in Exercise Trident Juncture 2018
Comments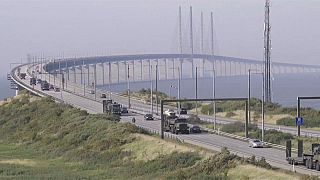 Thousands of British forces have crossed the Oresund Bridge between Denmark and Sweden.
They're en-route to Norway to take part in the NATO exercise Trident Juncture 2018.
A convoy of 71 Foxhoud, Husky and Land Rover vehicles on its 2,000 km journey from the Hook of Holland to Norway, crossed the longest combined road and rail bridge in Europe.
Norway and Iceland serve as hosts in NATO's largest high visibility exercise since 2015.
They are over 20,000 land forces, 24,000 navy personnel, 3,500 air personnel, around 1,000 logistics specialists and 1,300 personnel from a range of NATO Commands taking part.
In total, fifty thousand NATO personnel and partner countries will be taking part in the exercise and testing their ability to operate together. Thirty nations will be participating together with 150 aircraft, 65 ships and up to 10,000 vehicles.
British Brigadier of the Logistic Support Brigade, Neil Thorpe said "It's a multi-modal deployment where we're using sea, rail, air and road and we're currently focusing on the road move of those UK people and equipment."
He also said the exercise is a good test of moving a large amount of people and supplies, "I think that for any exercise there's always a sort of a logistic challenge but also opportunities and so the exercise here, the opportunity to rehearse, train how we move our people and equipment, particularly with our partners within NATO. So here in Denmark for example, and pushing forward into Sweden and Norway, it's allowed us to sort of refresh our relationships with those partners and ensure we have a smooth movement of our people and equipment north, ahead of the exercise."
The convoy's move also tested customs, border regulations and the infrastructure's ability to cope with rapid and heavy troop movements.
The exercise is in two parts. There will be a major Live Exercise (LIVEX), primarily on Norway's territory but also in Finland and Sweden. Alongside those, there will also be exercises in the Baltic Sea and the Atlantic Ocean.
Then the second part will be a separate Computer-Assisted Command Post Exercise (CAX/CPX) which aims to train command and control procedures of NATO Response Force 2019 (NRF19). This will be led by Allied Joint Force Command Naples (JFC Naples).