Ryanair racial hate crime man is identified by police
Comments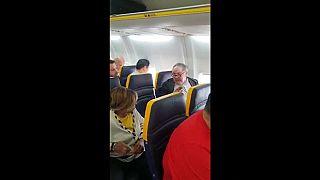 The man involved in a racial hate crime on a Ryanair flight has now been identified.
Essex police said in a tweet that they've passed the details onto Spanish authorities but his name has not been released to the general public.
Euronews believes the police has passed the information onto Barcelona City Council who confirm they're filling a complaint for a "Hate offence".
This comes after a man was filmed verbally and racially abusing a woman on a Ryanair flight from Barcelona to London Stansted last Friday (19 Oct).
Ryanair failed to remove the man from the plane before they took off.
Shadow Transport Minister Karl Turner, speaking to British media, said since the budget airline is registered in Dublin, UK law did not apply once the plane was in flight.
He added that Spanish authorities were therefore responsible for the investigation as it happened in Barcelona.
Karl Turner added that it was unlikely the man would hand himself into Spanish police and therefore there could be no charges.
The footage shared through social media showed the man calling 77-year-old Delsie Gayle an "ugly, black bastard," and saying that if she didn't move to another seat he would "push" her to another one.
Her daughter Carol, 53, came to her defence at the time and told him her mother was disabled to which he replied, that he couldn't care "whether she's f**king disabled or not – if I tell her to get out, she gets out."
Gayle, in an interview with British media, said "He pays his fare, I pay mine. So why did he abuse me for that? Because of the colour of my skin … If I had done that to him, I'm sure they would have called the police," she said.
The 77-year-old added, "I feel really depressed about it. I go to bed and say 'what have I done?".
The Transport Secretary Chris Grayling has described the incident as "totally unacceptable".
Ryanair said on twitter that it's a police matter and therefore it could not comment.