Thousands of sheep herded through Madrid to mark annual festival
Comments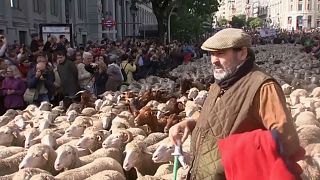 As many as 2,000 sheep were herded through the streets of Madrid in a unique celebration that takes place every autumn in the Spanish capital.
Along with a parade involving dancers and musicians dressed in regional costumes, the transfer of sheep through the city marked La Fiesta de la Trashumancia.
The festival saw shepherds move their flocks to warmer pastures for the winter, paying the mayor of Madrid to allow the animals to pass through the city.
Forgotten for many years, the festival was resurrected in 1993.